Tips to Improve Your Vendor Onboarding Process
When it comes to streamlining vendor onboarding, PaymentWorks is a powerful tool that can simplify the process. To help you make the most of it, here are some essential tips on how to effectively use PaymentWorks to invite vendors.
---
Complete the New Vendor Invitation Accurately
When inviting a vendor through PaymentWorks, be as specific and accurate as possible when completing the Company/Individual Name and Description of Goods and Services fields in the Invite New Vendor window.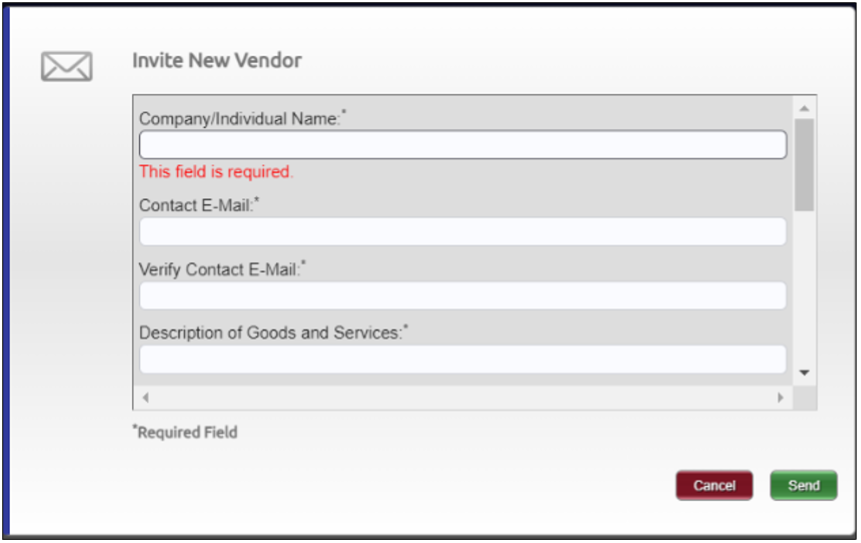 The Company or Individual Name field should be the name of the company or individual you are paying. If you are paying an individual, a common mistake is entering the name of the company that the individual works for instead of the person's name. This will likely result in a returned invitation.
Examples of Company/Individual Names include:
ABC Laboratory Service Inc.
Dr. Barbara Jones, MD
David Kim
The Description of Goods and Services field should capture the business purpose and what the vendor does. It should also describe what you will pay them for. This information is used by the Vendor Management team as part of their evaluation and approval process. If a robust description is not provided, the onboarding of the vendor may be delayed because of additional information needed to clarify what the vendor is being paid for. Quality descriptions should be entered for both vendors new to Columbia and existing vendors already present in ARC, but new to PaymentWorks.
Examples of helpful descriptions include:
"ABC Laboratory Services Inc. provides laboratory equipment maintenance and repair services. We will be paying them to repair our autoclave equipment at the Irving Medical Center."
"Dr. Jones will receive an honorarium for delivering the keynote speech at the Healthcare Symposium on December 4, 2023."
"David Kim is a prospective student athlete who will receive reimbursement for travel expenses for a visit to the Morningside campus for recruitment purposes on December 4 through December 7, 2023."
---
Check the Onboarding Status of Your Vendors in PaymentWorks
If the Vendor Management team determines that additional information is required from your vendor, they will return the New Vendor Registration back to the vendor for more information or correction. Only the vendor can access their information in PaymentWorks and make the necessary updates.
You can track the progress of your vendor as well as see what corrections are required. You can also contact the vendor directly to remind them to review the message within PaymentWorks and take the appropriate action.
Log into PaymentWorks using Single Sign On (SSO).
Select the Vendor Master Updates tile. The Onboardings screen displays the status of the vendors you have invited.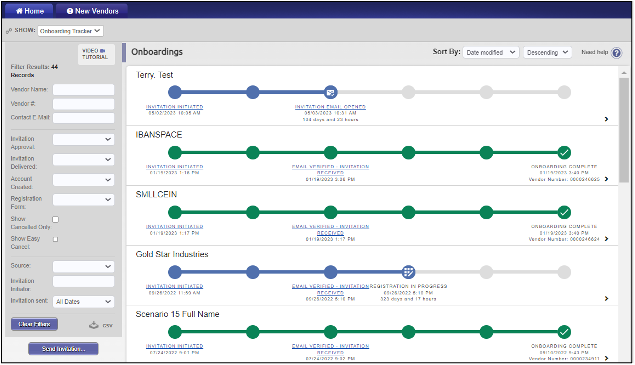 You can click a link on the Onboardings timeline for a vendor to get more details and view messages sent from Vendor Management to the vendor. You can also Resend or Cancel an invitation to the vendor, if necessary.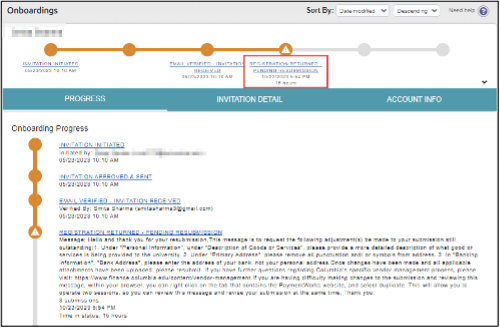 ---
Get Help
If you still have questions about PaymentWorks that are not addressed in any of the guidance materials available from the Vendor Management website, please contact the Finance Service Center. You can use a self-service web form, or you can contact the Service Center by phone at (212) 854-2122 Monday, Tuesday and Thursday, 9:00 am – 5:00 pm; Wednesday 9:30 am – 5:00 pm; Friday 9:00 am – 4:00 pm.
For urgent requests, please submit a ServiceNow incident stating that it is urgent in the description. In the body of the incident, specify the context of the urgent need.
An urgent request is defined by a business critical need to expedite review of a vendor registration submission. Please note that an urgent request is not to be used when a service has been completed and payment is now due. Vendors should be registered prior to services being rendered.
Note: If your School or department has users who are inviting vendors through PaymentWorks and they are not ARC users, please forward this message to those individuals.